Visitor Guidelines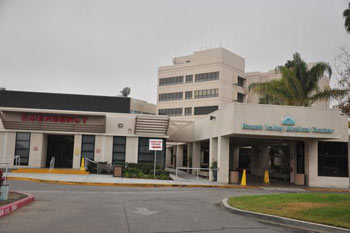 Visit Your Loved Ones
We encourage visits from friends and family members, and to respect visiting hours.
Please DO NOT VISIT if you have a COLD or the FLU.
Flu Season Visitor Restrictions
We are currently experiencing a severe flu season according to the California Department of Public Health.
For the safety of our patients, visitors and staff, we ask that anyone experiencing any of the following symptoms must not visit patients in the Hospital:
• Fever
• Cough
• Sore Throat
• Runny Nose
• Body Aches
Thank you for your understanding and assistance in helping us provide a safer environment for our patients and staff.
We strive to provide an environment that:
Meets the needs of family and patient
Keeps family close to the patient
Provides patient rest periods to enhance the healing process
Provides a safe environment for patients, visitors, and staff
General Visiting Hours: 8:00 a.m. - 8:00 p.m.
Per the CDC guidelines, Hemet Valley Medical Center will not permit visitors under the age of 18 years to visit during the Flu season (Nov-May). Sibling visits will also be suspended during this time.
All visitors over the age of 18 are to present us with an official government issue identification card.
Visitors must CHECK IN at the Information Desk in the Main Lobby between 8:00 a.m. and 8:00 p.m. After 8:00 p.m. Visitors much CHECK IN through the Emergency Department Lobby.
Visitors will be limited to (2) individuals in a patient's room at a time. Without exception.
Children under the age of 14 (18 ICU) will not be permitted to visit patients. Sibling visits in OB are suspended during the flu season.
Day Surgery Hours: 5:30 a.m. - 6:30 p.m. for immediate family.
Intensive Care Hours: Anytime except between 7:00 a.m. - 8:30 a.m. and 7:00 p.m. - 8:30 p.m.
Hemet Valley Medical Center reserves the right to ask visitors to leave the treatment area if necessary and/or warranted.